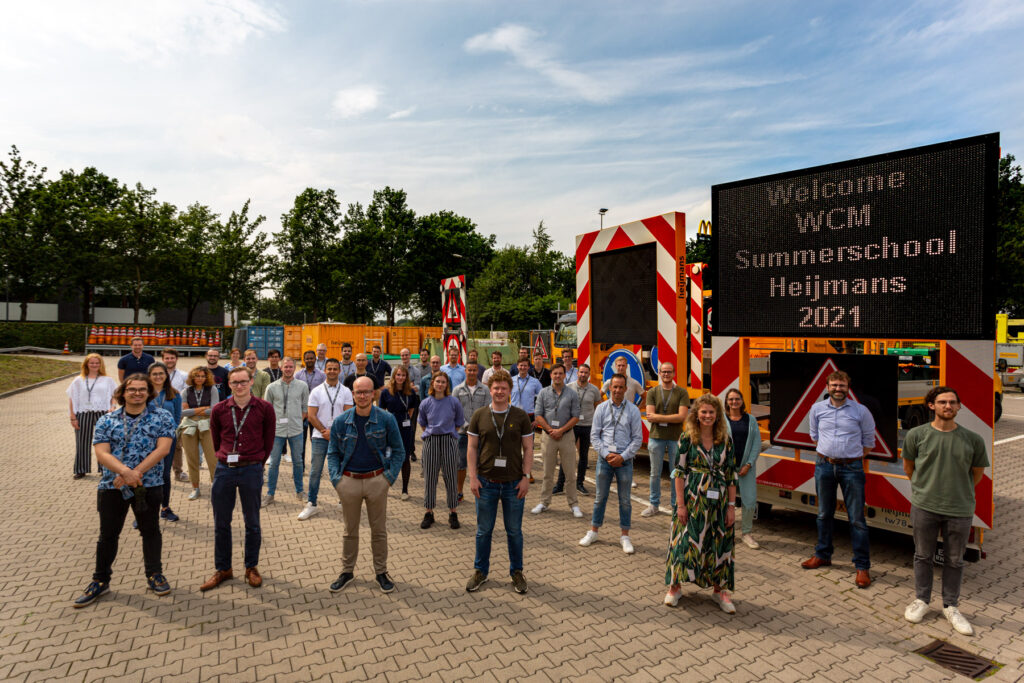 september 2021
This year's WCM Summer School focused on the case 'Doorstroming als een Service' (DaeS); a public-private partnership to guarantee and improve traffic flow in Almelo and Enschede. "We have a nice number of concrete take-aways with which we can get to work."
The WCM Summer School is aimed at young professionals in the maintenance profession and took place for the tenth time this year. Each year, the focus is on a real case from a real organization. This year's case was about guaranteeing traffic flow in the municipalities of Almelo and Enschede. The implementing partners are contractor Heijmans and engineering firm Sweco.
Lectures and workshops
During a WCM Summer School, students attend lectures and workshops in which the necessary and most recent theory is discussed. They then work on the subject in groups. The aim is to come up with improvement proposals which will help the person presenting the case to make further progress. In addition, the Summer School is an excellent way to build a network.
IN-DEPTH
By presenting DaeS as a case at the WCM Summer School, the cooperation partners wanted to gain technical advice and receive tips about cooperation between organisations with divergent interests. [Eddy Verhoeven, senior advisor for Smart Mobility at Sweco: "DaeS is new in the way of cooperation, in the form of contract, in the contract period of twenty years, and also the techniques we want to apply are new. Verhoeven looks back on a valuable week. "After the introduction of the case and the additional explanation, interesting conversations immediately arose on the first day. For example, a group of interested people formed around Rob Hulleman from the municipality of Almelo and the case was explored in more detail." Verhoeven calls the podium session that took place with Hulleman, Coolen, Naomi Tol from the municipality of Enschede and himself 'impressive'. "WCM director Henk Akkermans questioned us about the case and it really went into depth."
ExcursiON
The day after the kick-off, various lectures were scheduled in the morning. In the afternoon the group went on an excursion to one of Heijmans' regional offices in Veenendaal. Here the participants were given an insight into the practice of traffic installations with explanations of, among other things, luminaires that give off signals, traffic control installations and dynamic cabinets. A fully equipped bus of a service engineer was also on display. Verhoeven: "This gave people a better understanding of how much is involved in maintaining a traffic installation. Someone said: 'I will never go past a roadblock in the same way again now that I know what it takes'. I was pleased to hear that. The people were eager and curious and the visit helped them to understand the case even better."
Differing SWOT analyses
Wednesday was also dedicated to the SWOT analyses of the seven student teams. The analyses were quite divergent, says Verhoeven. Some teams focused on the engineering side, while others concentrated on the business angle. "And a few sought the combination of the two." Group 6 stood out for their thorough analysis, says Verhoeven, with a well-done Excel sheet and with an assigned value judgment per item. "This group had a good assessment of the complexity of the case."
SEPARATE LEGAL ENTITY
One of the challenges in the DaeS contract is the collaboration between the public and private parties, with the suppliers Sweco and Heijmans also having different perspectives and cultures. "Group 7 came up with the proposal to set up a separate legal entity for the management and to house certain risks. Another piece of advice – which came from several sides – is to focus primarily on the KPIs, whereby you must first very carefully define which parameters you want to steer on and how you want to measure them."
MEASURING SOFT INDICATORS
There was also a tip to measure 'soft' indicators, for example the ethical side of autonomous driving and autonomous infrastructure in relation to its acceptance by the public. One group recommended not repairing defective systems but immediately exchanging them for a working one. Another group took this idea a step further and suggested categorising the software and hardware in an installation at component level. This would make it possible to exchange a defective component. "Not new, but well thought out and elaborated."
GOOD AND USEFUL ADVICE
Because of his thorough analysis, Verhoeven expected that group 6 would come up with the winning solution at the final presentation at the end of the week. That turned out not to be the case. "They ultimately chose a different angle, with an engineering solution." Group 3 came up with the most concrete plan to move from reactive to proactive and preventive maintenance and went on to take the 'win'. "All groups had good and useful advice. When we add it all up, we have a nice number of concrete take-aways that we can get to work with."
Greater understanding
The Summer School also helped to gain more understanding, says Verhoeven. "For example, the collection and structuring of sensor data. You also have to compare that data with your KPIs. That sounds like an open door, but it was confirmed several times during the week by different participants, which made the DaeS partners face the facts once again and understand how crucial that data is."
'The way in which the relationship between theory and practice is established is particularly good' – Leon Aulman, Schiphol
Toepassen in eigen praktijk
Leon Aulman works at WCM member Airport Schiphol. Schiphol regularly sends people to the Summer School and he had already heard many positive stories from colleagues. Looking back, Aulman says: "I am also very enthusiastic. The way in which the relationship between theory and practice is established is particularly good. As far as I'm concerned, the workshops could be more about the case. It was sometimes difficult to make that connection." Aulman can immediately apply what he has learned in his own practice, he says. "Among other things, I have gained new knowledge and inspiration for organising and strengthening the cooperation with our contractors differently and for looking at certain assets in a different way. And I am now more aware of the importance of data in relation to asset management."
INSTRUCTIVE
Participant Mohammed Abdullatif of water board HHNK is 'super positive' about the week. He praises the good organisation and set-up and is 'more than satisfied' with what he learned. "The lectures by the various professors were very instructive, as was the practical visit to Heijmans. The case was interesting, with many challenges." In the end, he and his group delivered the winning concept. "It was Professor Tiddens' lecture on predictive maintenance and performance-based contracting that gave us the input we needed. We were the only group that picked up on it, and the funny thing is that Bianca Coolen from Heijmans later said that they were already partly working on it.""
'You see that the network function does indeed work and that alliances are formed'.' – Eddy Verhoeven, Sweco
AlliaNCES
The Summer School is also a vehicle for the participants to build a network. Abdullatif: "We certainly succeeded. We have set up an app group so that we can share knowledge quickly and we are linked via LinkedIn. All the presentations and results have been put on a canvas which we all have access to. It's all very valuable." Aulman: "The contacts I have made are certainly useful. We have agreed to stay in touch and to have a look at each other's kitchen." Verhoeven: "You see that this network function does indeed work and that alliances are formed. Yes, that also applies to me. I've had some interesting conversations with people from Tata Steel and from Defence. I'll definitely be keeping up those contacts, just like I did with Henk Akkermans. And I definitely want to speak to Wieger Tiddens again.
"The Summer School was definitely useful. We also had a lot of fun during the week. The surroundings and the entire organisation were perfect and the atmosphere was good. We didn't gain any surprising new insights, but I also speak for the other DaeS partners when I say that we are all very enthusiastic about the result, that we experienced many learning moments and that we are going to work with the result. The Summer School has also generated a lot of support among the partners, which is also a bonus. Our clients are sometimes rather reserved about solutions we propose. The Summer School has created more understanding for this. In this area, WCM can continue to make an important contribution in the future as a neutral advisor."
'The Summer School also generated a lot of support among the partners, which is also a bonus.' – Eddy Verhoeven, Sweco